---
In a word. 9min read. LinkedIn. Twitter. Facebook. Email. Copy link. All good podcasts require exemplary editing to get them to a higher standard. Podcast editing companies provide quality for your production that you could not have achieved without the help of professional podcast engineers & podcasters.
Editing a podcast improves overall content quality and improves audience interaction and enjoyment. Let's start with the basic podcast editing tools and editing services.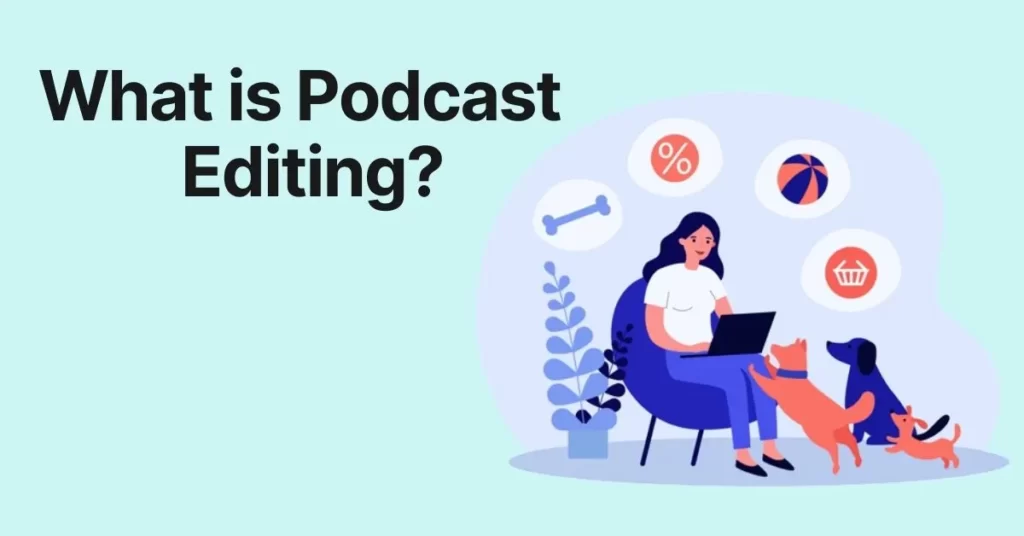 What is podcast editing?
Podcast editing improves audio quality and visual content and arranges them to tell a coherent story. Podcast editors have both technical expertise and storytelling skills. Create great content that is engaging while providing an engaging narrative.
Tell me the importance of podcast editing?
Your podcast will get more attention with premium editing. Listener responses are favorable to the quality content. These are some reasons why podcasting editing can help your podcasts succeed and improve their audio and videos. People are not a fan of a bad-quality podcast.
Editing is what makes a podcast unique. Your podcast will stay at the head of many people by using jingles in your introduction or using sounds that improve your presentation.
Best podcast editing software and tools
The right software can help you edit audio podcasts based on your budget and how many times you want them edited. We compiled a list of the best Podcast Editing Software available for 2023.
Adobe Audition ( Paid tool)
Adobe Audition is one of the most popular podcast editing software programs available and for good reason. It's packed with features that make it easy to edit audio files, add effects, and clean up your recordings. Adobe Audition is a paid program, but it offers a free trial so you can try it out before you commit to buying it.
Audacity (Free Tool)
Audacity is another free, open-source program that works on both Mac and PC computers. It's a great option if you're just starting out or don't need all the bells and whistles of some of the more complex programs.
Recommended Podcast Editing Services & podcast production company
There are the best podcast editing services we are introducing today!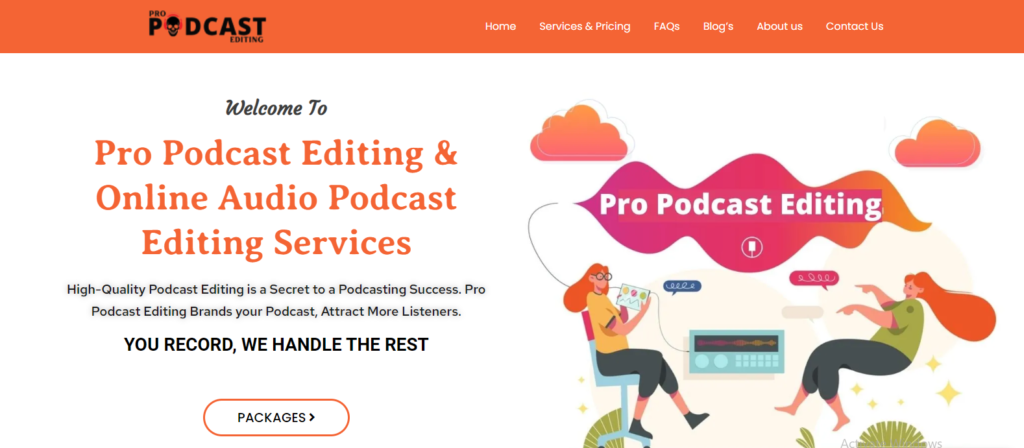 Pro Podcast Editing
pro podcast Editing provides online and remotely podcast editing services that work raw audio & video files with suitable charges they are charging $1 per minute with too fast delivery within 1 day. If your podcast episode length is 30 minutes they will charge $30.
What are the pro podcast editing rates?
we are charging for podcast editing $1 per minute with 24hrs fast delivery pro podcast editing has three packages
Basic ( podcast video editing and professional audio editing 0-30 minutes podcast price $30.00)
Standard ( if the podcast episode length is 0-60 minutes price is $60.00)
Premium ( podcast audio & video editing service 0-120 minutes podcast price $100.00)
pro podcast editing includes service
Audio & Video podcast editing
Remove the Background noise
Mixing and Mastering
Remove any audio distortion
write show notes
Add intro outro, ads
Remove Hums, cough, mistakes, plosives, and Mouth clicks
Consistency in the volume levels
Background Music
Commercial mastering
Podcasts. Press
Podcast Press offers professional audio and podcast editing services to your podcast at affordable prices. Their podcasting plan begins at $197 for four episodes each month. The company provides a 12-part monthly package for $47 and an hourly package for $500. Is it an awful offer? Notes and transcription services are additional.
The podcast editor offers various choices to meet your requirements and budget. They offer free delivery for all your podcasting needs. Their five-episode monthly plans cost $249 for editing and $549 for transcription. This is a good price that has the basics of a simple upload and scheduling of your episode.
Cashflow podcasting offers complete podcast editing and note-taking services. I've got some podcast ideas for people who are interested but don't have time to create a podcast. This highlight is: Two packages begin at $899 per month. It's a good choice for you when you're short on time.
podcast production service?
A podcast production service is a company that helps podcast creators with the technical aspects of podcasting. This can include recording and editing the audio, creating artwork, submitting the podcast to directories, and more.
Many podcast production services also offer additional features such as transcription and show notes. By outsourcing the technical side of podcasting, podcast creators can focus on creating great content and growing their audience. As the podcast industry continues to grow, podcast production services are becoming an essential part of the ecosystem.
Podcast episode editing & podcast production services
We Edit Podcasts
We Edit Podcasts is a female-owned podcast production agency that supports new and experienced creators to produce excellent podcast episodes. Prices begin at $349 per month and will not be refunded. Those plans come with unlimited podcast hosting with BuzzSprout and a 48-hour turnaround time. You'll be able to test out their service by editing your first episode at a discounted cost. Then we offer you a free 14 days return guarantee to make sure that your product is not completely damaged or faulty!
Podigy post-production
Podigy allows for the editing of podcasts & production services. Pricing starts at $449 for a copy but increases to $449 per digit for importing and submitting prewritten show notes. It has no contract, but the price is 15% off if a 3-month subscription is signed up. The company also offers great deals where if you put them in the ad for service you get $100 off. That's great. There are also very good audio editors for those interested in a bit of information on how to do it. I will likely need a note.
Podcasts. Motor
I mentioned Podcast Motor earlier as an amazing podcast blog, their core business is full-service podcast publishing services. The package includes show notes and an identifying 3-tag, however, the actual value comes from the $699 and above packages as these will upload the episodes to your host and publish it to your Website. The best packages contain transcriptions with timing stamps. Let us concentrate mainly on creating good content!
ScrubCast
ScrubCast allows you to create podcasts based on a specific schedule. Each episode has a price of $149. Monthly 4-episode plans cost $549 a month. It uploads files for you whenever you need them and tag edits levels and removes mistakes and many more. Price based on a 30min podcast, please contact us for a more streamlined package to get more episodes. ScrubCast can also offer transcriptions. They'll edit your first episode for free.
Resonate recording & Post-production
Resonate recording offers a simple method of podcast editing which is often used by top podcast companies. This company also offers a full range of services in audio-producing podcasts with various plans which will completely meet your needs. It's the Standard Package with $59 for the entire episode and also includes mixing and mastering.
It also includes ID3 tags, adding intros, outros, and The next step is the premium plan with a price of $139 per Episode. This will include production editing and mastering. It'll remove umms, repeat words, and dead air and basically improve your sound.
Podcast FastTrack
Another podcast producer service that does far more than just audio editing is Podcast fast track. Podcast Fast Track is an experienced group of professional podcasters offering.. Carey Green, whose company started in 2013 with clients and happy clients, carries the company to the highest level and has remained strong for several years now. Ultimately, his goal is for e-mail and other content marketing to provide quality content to his listeners and the podcast industry. Carey also hosts a weekly show on the topic of podcasting. More details are available at PodcastFASTTrack.com.
Freedom Podcasting
Freedom podcasting provides editing services and more than one thing. This launch package walks you along the way in your project from conception to completion and helps you to find songs, script introductions, and other resources, as well. In addition to excellent audio editing for interviews and narratives, their writers can create your own blog or show notes, which means doubling your content. Here are some of the best things that the guys have done: Their pricing ranges between $35 & $255 depending on the length of the finished episodes.
Outsource podcast editing and focus on what you do best
There are significant differences between a well-edited podcast to one that has a poorly curated one. There're no lengths in your episodes but this should still be taken into consideration. There are many things more involved than simply removing ums, you know, and awkward stops. Creating engaging content is an important part of providing an engaging and informative experience to the listener. Editing episodes into concise endings is very time-consuming; there's nothing you'll be able to spare. What is the most appropriate method to solve this problem? Let's get it done with professional help. Lower Street Crew Savings Your Money and Giving Your Podcast that Competitive Advantage!
The average cost of podcast editing service
I've said it before but that will change soon. Editing costs vary depending upon: How many steps do we need to complete? Is there a need for freelance editing? How much detail is required in editing? Can someone take part in this process? It is possible to get a decent cleaning job for less than $50 a show. But the job inevitably requires a huge amount of trial-and-error and the editing takes a long time.
How often should I publish a podcast?
Good question. It all comes down to how you and the audience respond. Content duration and frequency should be determined by target listening needs and should be in harmony with what you are able to achieve. All of these details are included as part of the launch packages. We can discuss the issue in detail together and design a personalized podcast strategy. We talk.
How many clients do you work with?
The show has already had over 1000 downloads in various industries. In some cases, the team could work on 5-7 podcast clients. We've provided many examples here.
Can you advise me on podcast equipment?
If you're serious about podcasting, you need to invest in some quality podcast equipment. At the very minimum, you'll need a decent microphone and a quiet place to record. However, there are a number of other podcast accessories that can take your show to the next level. Here are some of the most important podcast equipment items to consider:
Microphone: A good microphone is essential for any podcast. If you're recording on a budget, consider a USB mic like the Blue Yeti. If you have a little more to spend, go for a higher-end model like the Rode Podcaster or the Audio-Technica ATR2100x.
Recorder: You'll need some way to record your podcast episode.s If you're using a USB mic, you can record directly into your computer. Otherwise, you'll need a standalone recorder like the Zoom H4n or the Tascam DR-40X.
Headphones: You'll need a good pair of headphones to monitor your audio while you're recording. We recommend closed-back headphones like the Audio-Technica ATH-M50x or the Sony MDR7506.
Windscreen: If you're recording outdoors or in a drafty room, you'll need a windscreen to reduce wind noise. We recommend the Rode DeadCat or the Auray WSW-1.
Pop filter: A pop filter helps to reduce plosives (cryptic
words like "the"), which can ruin a take. We recommend the Auray PF-2 or the Rode PSA1.
Podcasting is an incredible way to reach your target audience and share valuable information. Podcast editing can be a daunting task for many people, which is why we offer podcast editing services at competitive prices that are designed with you in mind. We have the expertise needed to polish up your audio recordings so they sound clean and professional – all while keeping a dynamic conversational flow. Contact us today to learn more about how we can help you take your podcast to the next level.